Former Guernsey Police officer and family jailed for importing drugs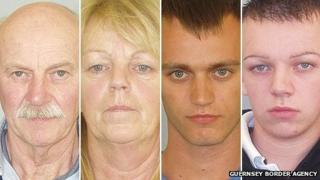 A former police officer and his family have been jailed for almost 28 years by Guernsey's Royal Court for importing drugs worth more than £250,000.
Michael Falla, 68, his wife Mandy, 51, and their sons Charles, 20, and Alex, 18, had admitted offences including importing drugs and money laundering.
Michael, an officer for 25 years, and Mandy were each jailed for eight years.
Charles and Alex were given youth detention, eight years and three years eight months respectively.
Both sons admitted to conspiracy to supply drugs, while Charles was also charged with importing the Class B drug mephedrone.
The parents, Michael and Mandy, were both charged with conspiracy to transfer the proceeds of drugs trafficking and importing a synthetic amphetamine.
After a series of failed business ventures and the loss of the family home due to financial difficulties they began importing the then "legal high" mephedrone.
Judge Dame Heather Steel said: "It funded the family lifestyle at a time when no one in the family had another legitimate form of employment."
The importation of the drug was banned in November 2009 and it was later made a Class B drug in April 2010, but the family continued to import it.
Suspicions were first raised during a police search of the family's home on a different matter, in which a stun gun, pepper spray and batons were found in Charles Falla's bedroom.
Whilst the police were in the house Charles' mother Mandy asked where the money was, which led officers to search the bedroom again finding almost £8,000 in cash, which the family said was earnings from the father's job as a taxi driver.
It later became clear more than 1,500 tablets had been imported through the post, directly to the family home or to another property.
A package, containing mephedrone tablets, was intercepted in May 2011 and by following its dummy replacement Guernsey Border Agency officers were led to Charles Falla and his friend Michael Le Huray.
In March, Le Huray was jailed for three and a half years for his part in the importation, which involved allowing his address to be used.
The court was told most of the drugs were LU Dove mephedrone tablets imported through the postal service, primarily from a contact in Jersey known as Mr X.
The parents had controlled the money side of the operation, laundering the cash and paying off their supplier in Jersey, but after Charles was arrested they took a greater role in the business.
In July 2011 customs officers intercepted them when they arrived on the car ferry from St Malo.
A sniffer dog discovered they had concealed more than 1.5kg of synthetic cannabanoids, similar to cannabis resin, in their car doors.
The border agency estimated the street value of all the drugs to be between £258,000 and £344,000.
In passing sentence Judge Steel said to the parents: "Neither provide any reason or accepted any responsibility... your attitude to the proceedings in this court was of arrogance to your current situation.
"You assisted and encouraged your son Charles.
"[It's] incredible that you continued to be involved when your family was being investigated and your son Charles was in custody.
"Misfortune can never be an excuse for criminal activity."
She told Michael Falla he was once a "distinguished member of the community" whose career had "ended in disgrace" and the "destruction of your family".