Guernsey Police and border agency to be run by one person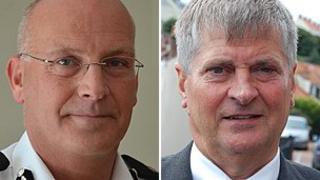 A single head will be appointed to run both the island's police and border agency.
The new post will replace the current separate roles of chief of police and chief of the border agency.
Rob Prow, head of the border agency, and Patrick Rice, the police boss, are both due to be invited to apply for the post.
The Home Minister Jonathan Le Tocq said the aim was to improve front-line services by better using resources.
He said the decision followed consultation with senior officers and management of Guernsey Police and the Guernsey Border Agency (GBA).
'Shared investigations'
Deputy Le Tocq said: "There will still be two distinct law enforcement services. There will still be police officers on the streets, and GBA officers at the airport and the harbours.
"It will be the job of the post-holder to ensure both organisations are working even closer together in order to bring about the efficiencies required. This might mean shared investigations or shared resources.
"Those efficiencies will all be aimed at further improving the way our law enforcement agencies work and at delivering an even better service."
"This change is about future proofing and protecting front-line services so that Guernsey has the most effective and efficient law enforcement structure it can put in place."
Interviews for the post are due to take place in December with the position being taken up from 1 January 2013.