Professor Shaw diamond collection sold at auction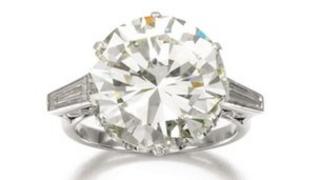 A collection of ornate diamond jewellery belonging to the late Professor Leonard Shaw has been sold at auction by Sotheby's Geneva.
Two rings, a necklace and a bracelet fetched a total of £580,350.
The collection was the first of many which are to be sold by the administrators of Prof Shaw's estate.
The Bradford-born textile entrepreneur - who lived in Guernsey from 1976 to his death in 2010 - was well known for his philanthropic public donations.
His funding of a community centre in the parish of St Martin was recognised when it was subsequently named after him.
During his lifetime, Prof Shaw built up collections of Russian art, firearms, furniture and paintings by old masters.
'Source of amusement'
One of Prof Shaw's grandchildren, who declined to be named, said his pleasure in collecting developed late in life.
"His interest was sparked by a painting called Fog on Guernsey by Auguste Renoir, which he purchased because of the historical connection to the island," she said.
"It was a great source of amusement that the Renoir was hung out of view in a little corner, whilst a painting by local artist Pamela Dorey took pride of place over the mantlepiece.
"Whilst he gained personal pleasure from being surrounded by pieces which gave him enjoyment, his main objective was to invest so the items could, after his passing, benefit his favourite charities."
Items from all of his collections have been included in forthcoming specialist auctions in the UK.
A further 64 lots of jewellery and watches are also to be sold at auction in Guernsey.
Professor Shaw made his fortune from inventing, developing and selling moisture-sensing technology for use in the textile industry.