First case of ash dieback disease confirmed in Guernsey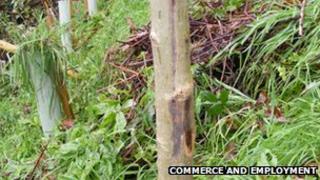 The first case of ash dieback has been confirmed in Guernsey.
Nigel Clark, plant health inspector for the States of Guernsey, said the disease was found at a site in south east Guernsey, and 86 recently imported ash trees had been destroyed.
He said the finding underlined the importance of checking all recently imported ash trees.
A ban on importing the trees in Guernsey, Jersey and the UK was introduced last month after the disease was found.
The disease is caused by the fungus Chalara fraxinea.
In Denmark, where the disease has been present for several years, it is estimated that 90% of ash trees have been lost.
Mr Clark said: "Finding infection early before it becomes established is essential if the islands ash trees are to be protected."
He said anyone with ash trees planted in the last three years need to contact Plant Health at Commerce and Employment to get their trees inspected.