Alderney road collapses due to 'mysterious hole'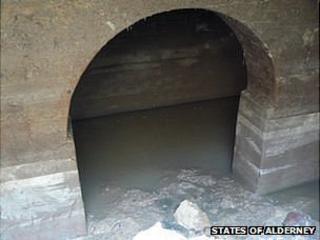 A road in Alderney has been closed after part of a cobbled street collapsed revealing a "mysterious man-made hole".
The area in Royal Connaught Square was cordoned off after a member of the public reported missing cobblestones.
Julie Turner, States Engineer, said: "Peering down the missing three cobbles we could see there was actually quite a gap under there.
"The more we looked the deeper and the wider it got."
She said the hole was about 2m (6.6ft) by 3m (9.8ft) wide and 1.5m (5ft) deep and it was not clear what it was.
The structure, believed to date back to the 18th Century, included what Ms Turner described as a "gorgeous brick arch roof".
One suggestion is that it was one of the watering points for the island, where the public would go and get their clean water from.
Ms Turner said working out what it was and repair work would have to wait until the hole was made safe.
She said: "As we stood there starting to excavate the hole we could see the sides of the hole collapsing.
"I think the final bit of it was quite recent and quite extreme, but possibly there was a small hole there for a while before.
"I think there was a small stream, there was certainly a small watercourse running alongside this wall so that's probably helped to carry the material through."
Ms Turner said they had discovered the hole was also accessible via a 1.5m sq access hatch.
She said photos of the hole would be taken before repairs were completed to document the find and aid investigations into who, why and when it was built.