Guernsey Airport closures: How islanders used to travel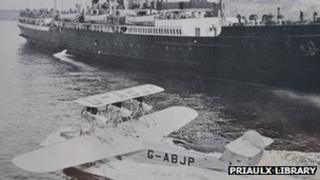 For two days in November and another two days in December, Guernsey Airport will close to all air traffic.
It will be the third and fourth time the airport has closed to allow work to improve the surfaces and move the runway.
On both occasions, there will also be no fast ferry services to and from Guernsey, with only one conventional ferry on some of the days.
This leaves Guernsey people with little or no chance of leaving the island.
While some people have undoubtedly booked their places on the nine-hour ferry trip to the UK, others will have been left disappointed.
You might say that those people have, in fact, been stranded in Guernsey.
'Precarious'
However, there have been times in the island's history when passenger sailings and flights have been less than frequent.
For example, during the Occupation when Nazi forces controlled the airport and harbour. This meant there were no commercial flights or sailings to and from the island for five years.
Dr Gregory Stevens-Cox, a local historian, said passenger flights became more frequent after the Occupation, but were far from regular beforehand.
He said air travel to Guernsey began "in a very precarious fashion in the 1920s".
Dr Stevens-Cox said the first flights involved experiments with flying boats, a statement that can be backed up with a look through the Priaulx Library's photo archives.
There exist numerous images of seaplanes in St Peter Port harbour in the 1930s, some sitting right next to the daily mail boat.
Dr Stevens-Cox said World War II put a stop to such services at a time when passenger flights were beginning to become popular.
Unpredictable weather
The island has benefited from a much more regular, long-standing boat service.
Dr Stevens-Cox said the breakthrough for sailing to and from Guernsey came in 1861.
He said before this time, in the late 18th and early 19th centuries, a "pretty good boat service" had operated between St Peter Port and a number of ports on the UK's south coast.
However, he said sailings could not have a fixed timetable due to the unpredictable weather in the English Channel.
This changed in 1861 when a daily steam ship began running between Guernsey and the UK, carrying passengers and cargo.
He said this prompted the beginning of Guernsey's export industry, starting with grapes, and moving on to the export of tomatoes from about 1880.
The Priaulx Library's photo archives show the enduring popularity of local boat services, with many shots of travelling football teams and fans making their way between the islands.
Now Guernsey residents have the choice of transport methods.
The island has a regular - although not always daily - fast ferry service to Jersey, the UK and France, as well as a conventional cargo ferry service.
The airport, which is undergoing an £81m upgrade project, handles flights to and from Jersey, Alderney, the UK and Europe.
It will close between 27-28 November and 4-5 December.