Guernsey airport starts work on new £3.2m radar tower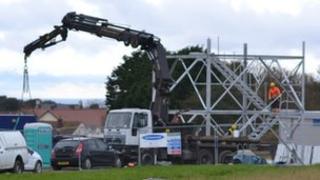 Building work has started on a new £3.2m radar tower at Guernsey airport.
Airport Director Colin Le Ray said the the tower was currently being built and would then install the antennas.
The new radar tower should be working by May and is expected to last for at least 20 years.
Mr Le Ray said there are plans to sell use of the radar's coverage. He said being roughly in the middle of the Channel, Guernsey will have information the UK and Jersey could use.
"We hope to start flight trialling in the new year which involves specialist aircraft to make sure the radar is tuned properly," he said.