Saints Bay toilets and kiosk may reopen under new lease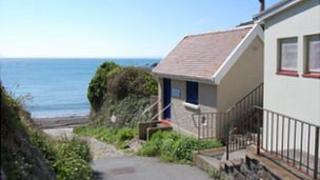 Guernsey parish officials hope to reopen the toilets and kiosk at Saints Bay by negotiating a 50-year lease.
The area, which is owned by the Fief Blanchelande, was leased by the States from 1961 to 2011.
In May the closure of the toilets and kiosk, in St Martin, was announced by the seneschal of the fief.
Senior Constable Richard Strappini said keeping the facilities meant Saints Bay could still attract tourists.
He said: "If the parish does not negotiate this lease almost certainly the buildings, because they will eventually cost quite a lot of money to the fief, would probably be demolished."
At the parish meeting on Wednesday parishioners added to the lease being pursued and also ceded their own rights to the land for the period of the lease.
Mr Strappini said: "If they [had continued to] hold those very ancient rights, which are of grazing and access, then in theory legally that's an objection to being able to run the toilets and kiosk."
He said parishioners would still be able to graze animals on the rest of the common, although he was not aware of any parishioners that currently exercise their rights.