Future unclear for Guernsey band Twelve Tribe Mansion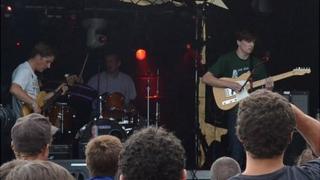 Only formed in April 2012 the future already seems uncertain for Twelve Tribe Mansion despite the fusion three-piece having an album due for release in the new year.
With upcoming off-island commitments for band members the challenge may be keeping the band together.
The band formed following a meeting between guitarist and songwriter Sam McKerrel and drummer Chris Howitt at the Rocquaine Regatta.
When they got together to jam, Chris suggested bringing in his former band mate Tom Bradshaw on bass.
Tom explained that the band coming together was really a way to get some of Sam's songs heard: "Sam's the principal songwriter and what we've put together is the result of years of him writing songs and this is finally an opportunity to showcase them.
"Sam brings the songs to us and we try and make sense of what Sam's thinking. They become a bit of a journey as Sam doesn't write a simple song."
While the band describes their music as "fusion", they admit it's "a bit of a cop out way to describe it" and Sam suggested a more accurate term might be "Gypsy funk 'n' roll".
This is formed from a collection of Twelve Tribe Mansion's disparate musical pasts with Chris having a grounding in jazz and Tom in more pop-funk areas and Sam having an interest in many styles, but listening to a lot of instrumentals.
This interest in music without vocals is something that has marked out Twelve Tribe Mansion from most other bands in Guernsey as all their music comes without voices.
Sam explained: "None of us sing much and a lot of what I listen to is instrumentals so I never envisioned the music with vocals… it makes it a lot easier to put the songs together too."
Twelve Tribe Mansion have recently completed recording of their debut album with local producer Simon Prince.
The band explained they wanted to keep the live feel of their gigs in the music so ended up recording most of it live and it was in the process of being mixed and mastered.
With only one gig left in 2012, on 10 November at the De La Rue, they explained that band members going travelling and heading off island means gigs may not be so regular for a while, however, they hope to keep the band going and have an album launch show in January.
Tom said: "We want to keep it going but there is a bit of a question mark over the future… but, we've put a lot of work in to it so we want to keep it going as much as we can."