Sir Isaac Brock portrait returns from Canada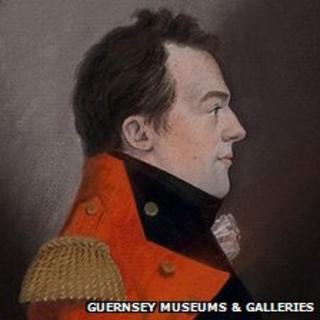 A portrait of military hero Sir Isaac Brock has been returned to Guernsey after being loaned to Canada to mark the bicentenary of the War of 1812.
The pastel, thought to be by the Dutch artist Gerrit Schipper, was returned by David Aurandt, the Director/Curator of the Riverbrink Art Museum in Ontario.
Mr Aurandt said it had been a central feature of his museum's exhibition to mark the 200th anniversary of the war.
The portrait is the only known likeness of the Guernsey-born general.
The Riverbrink Art Museum is so named because it stands on the brink of the river Niagara, close to Queenston Heights, where Brock was killed in action on 13 October, 1812.
Mr Aurandt admitted that the loan of the painting had engendered mixed feelings in Canada.
"When the portrait became available [in 2009], we actually competed with Guernsey to try to buy it," he said.
"Guernsey got the portrait. We didn't. But... this is where Brock was born, so we don't feel that badly."
'Accuracy guaranteed'
Neither Mr Aurandt nor Guernsey Museums Director Dr Jason Monaghan would divulge the value of the winning bid.
Mr Aurandt said the artist was a travelling Dutch painter who was in North America prior to the outbreak of the war.
"He would put ads in the newspapers, wherever he went," he said.
"A typical ad would be 'I will do your portrait. Accuracy guaranteed. Frame and glass included. 45 minutes. Seven dollars American'."
Mr Aurandt will be giving a lecture at the Frossard theatre, Candie Gardens, on the exhibition that his museum held this year and the portrait's significance to it.
The lecture is at 20:00 GMT on Friday evening and admission is free.
The portrait will be available for the public to view during the evening and following the lecture it will be on public display in the foyer of Guernsey Museum for the remainder of this year.