Sark vineyard vandalism investigation aided by Guernsey Police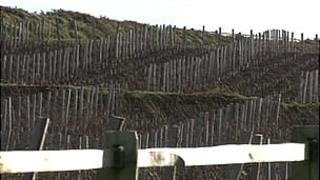 Guernsey Police officers have travelled to Sark to assist in an investigation into alleged vandalism to parts of a vineyard.
Sark Constable Adrian Guille said help had been requested after "a significant amount of damage in three fields".
He said: "We believe sometime on Friday night someone got into various fields belonging to Sark Estate Management and cut the wire supports of the vines."
Two officers assisted authorities over the weekend and returned on Monday.
Serious damage
Mr Guille said he and the vingtenier [his deputy] were joined by the officers for house-to-house inquiries after the damage was discovered on Saturday morning.
He urged anyone in the community with any information to contact the Sark Constables Office or Guernsey Police.
Kevin Delaney, director of Sark Estate Management, said the damage was serious.
Conseiller Rosanne Byrne, who organised a protest on Saturday against the planting of more fields as vineyards, said: "I do not support criminal damage, however important the issue is.
"I welcome a full police investigation to find out who is responsible."