Sark protest against extension of SEM vineyard project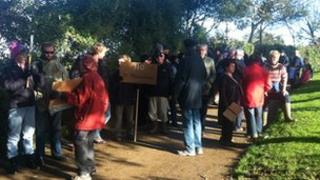 Sark residents chained themselves to fences to protest against vines being planted by Sark Estate Management.
Approximately 100 protesters gathered earlier to express their concern about possible consequences for biodiversity.
Sark's Agriculture and Environment Committee also claimed the water supply could be polluted by pesticides and fungicides if more vines were planted.
Sark Estate Management Director Kevin Delaney said the natural habitat would be improved by the planting project.
Since 2010, vines have been established in more than 20 fields.
Mr Delaney said 30 jobs would be created as a result of the establishment of his company's vineyards.
He said farmers had had plenty of notice that the work was going to happen and that the company was in constant dialogue with them.
Sark Estate Management, which is the company representing the business interests of the Barclay brothers in the island, has said it wanted to start producing wine by 2014.
Rosanne Byrne, who is a Conseiller in Chief Pleas and a member of the Agriculture and Environment Committee, said: "This is quite a substantial amount of land which is now being taken up by this monoculture, which is bad for biodiversity.
"It's extremely worrying for lots and lots of people here who make their living out of farming."