Guernsey Airport issues firework warning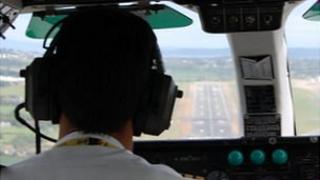 People living near Guernsey Airport have been asked not to hold fireworks parties before 21:00 GMT.
Officials are worried that letting off rockets could distract pilots during take-off and landing.
The airport closes at 21:00 and airport Director Colin Le Ray has asked for firework parties to only be held after then.
He said: "Above all else we want people to have a good time and enjoy the evening safely."
He asked those planning a party near to the airport before 21:00 to notify Guernsey Airport by Friday.
Mr Le Ray said: "If a rocket passes very close on either take-off or landing then obviously that could be a distraction to the pilot, and potentially could damage the aircraft.
"It is also important for us to keep the runway and taxiways clear of any objects.
"We're simply asking anyone close to the airport to bear that in mind if they are planning a party.
"Ideally, think about delaying it, or at the very least let us know when and where they will be so that we can be aware and warn pilots as necessary."
Official advice on when private displays should be held has yet to be issued, although fireworks went on sale in the island on Saturday.
Scheduled flights use Guernsey airport to connect with destinations in the UK, France, Germany and the Netherlands.