A new emergency response plan for Guernsey's fuel depot is announced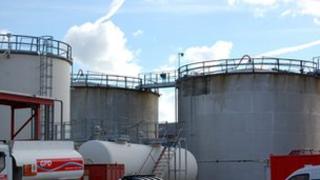 A new emergency plan for Guernsey's fuel storage site has been announced by the island's Home Department.
The department said it had co-ordinated the response from the island's emergency services for any "worst case scenario" at the Bulwer Avenue site.
The site stores all fuel arriving in Guernsey.
Catherine Veron, emergency planning officer, said a fire at Jersey's fuel depot in July highlighted the need for Guernsey to plan for a similar event.
Hundreds of people had to leave their homes for the night after the fire at the gas facility in St Helier.
'Tune in'
Ms Veron said each of the Guernsey's emergency services had separate plans for dealing with a fire at the depot but the new plan aimed to bring them together.
A test exercise would be carried out at a later date, she added.
Richard Brown, Guernsey's Chief Health and Safety Officer, said testing the plan was vital.
He said: "People have got to know their parts...to make this plan work."
As well as drafting the emergency response, the Home Department issued advice leaflets to nearby homes and businesses.
The leaflet advises people to "go in, stay in and tune in," recommending they stay inside their homes or places of work and listen to the radio for more information.
The amount of fuel held at the depot varies considerably, depending on the dates of fuel deliveries, a spokesman said.