Alderney airport simulates a plane crash for training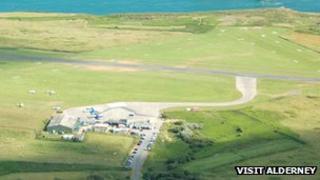 A plane crash was simulated at Alderney Airport as part of a training exercise.
The scenario saw emergency services and airport staff deal with 16 "injured" passengers and crew members, after a plane "crashed" after landing.
Ashley Nicholas, deputy airport director, said the exercise aimed to test local resources and evaluate emergency response procedures.
He said the benefits of working in a small community were clear, as a fast response to the incident took place.
He added: "The attending services... worked as a cohesive unit and they worked very well together."
The emergency scenario saw a plane hitting a vehicle after leaving the runway.
A number of volunteers from Alderney were used as casualties.