Alderney's Clonque road closed after cliff face erosion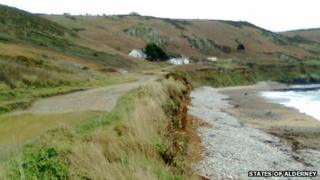 The eastern half of the road above Alderney's Clonque Beach is closed after heavy erosion of the cliff.
States Engineer Julie Turne, said the road would remain closed while staff worked on a solution.
She said traffic was being diverted down the track from the top of Tourgis to Clonque Cottage.
Ms Turner said access to the fort was still possible and walkers and horse riders could use the closed section of the road at their own risk.
But she said they were asked to stay away from the edge of the road.