Guernsey salvage scheme is set up online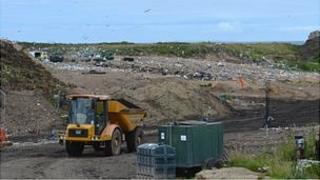 A new private salvage scheme set up in Guernsey has the support of the States department responsible for waste.
Linda Barton set up the website Guernsey Salvage to try to stop useful building materials going to landfill.
She said she had been inspired by the appetite for old materials, such as mantle pieces, chimney pots and paving stones, in the UK.
Tina Norman-Ross, recycling officer, said it was a way for items to be found a new home instead of being dumped.
Waste export
She said it fitted well alongside the department's objective to reduce the amount of waste ending up in landfill.
The department runs its free recycling site at Longue Hougue, where items can be dropped off and collected for free.
The salvage website allows people to list materials for sale and through it can be contacted by potential buyers.
Mont Cuet, the island's only landfill site, is expected to be full by 2022.
The States is currently investigating a new strategy involving the export of the island's waste combined with a gradual increase in the recycling of waste to 70% by 2025.