Fireworks go on sale in Guernsey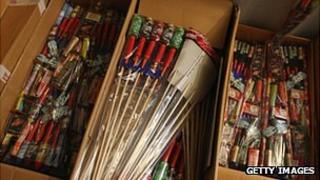 Fireworks have gone on sale in Guernsey, although guidelines on when people should hold private displays off are yet to be released.
Retailers in the island have signed up to a voluntary code, which sees them agree to sell the explosives until Bonfire Night on 5 November.
Concerns have been raised about how long they are on sale for.
The firework safety group usually recommends when private and professional displays should be held.
However, the Commerce and Employment Department said the guidelines would not be available until Tuesday at the earliest - although they had been due out this week.
The safety group includes the emergency services, health authorities, customs, representatives from an animal charity, Age Concern and someone on behalf of the island's pyrotechnic professionals.
In 2011 professional displays were limited to three nights and islanders were encouraged to keep private displays to 5 November.