Channel Island Christmas lottery tickets on sale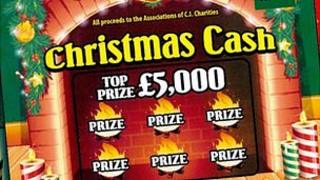 Tickets for this year's Channel Islands Christmas Lottery, which raises money for charities across the islands, have gone on sale.
Proceeds from the ticket sales are distributed by the association of charities in Guernsey and Jersey.
The first prize will start at £300,000 and will rise as more tickets are sold.
More tickets have been printed this year so if they sell out the first prize would top the 2011 record first prize of £751,500.
The guaranteed second prize will be £50,000, third prize £25,000 and there will be 45 prizes of £500.
The draw is due to be held on Thursday, 20 December.
During 2011 more than £600,000 was given out to charities from the proceeds of the annual lottery.
It has been run since 1975 and money has been donated to charity since 1986.
The share of the proceeds given to each island is decided on the proportion of ticket sales.
The 2011 Christmas Lottery helped 70 local charities with grants ranging from £150 up to £30,000.