Guernsey's Perelle coast road collapses after high tide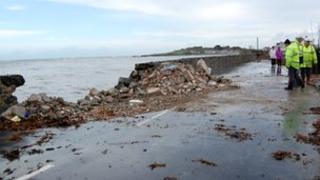 A 10m (33ft) section of Guernsey's Perelle coast road was washed away by waves on Wednesday evening.
The sea wall was also partially destroyed as a high tide of 9.9m (32.5ft) at 20:43 BST brought seaweed and pebbles crashing against it.
Martin Robert, the store manager at Perelle Garage, said he had not seen anything like it before.
"There was about two foot of water around the store," he said. "We've put the sandbags out".
Mr Roberts said local residents had helped him to clear debris in the early hours of the morning to help get the shop open.
Guernsey Police closed the road to traffic and set up an inland diversion.
States Works began temporary repairs at 07:00 BST by filling the hole in the road with rubble taken from the site of the recently demolished Les Beaucamps School building.
'Amazing damage'
However, as a high tide of 9.6m (31.5ft) was predicted for Thursday evening at 21.25 BST and even higher tides for the end of October, permanent repairs have not yet been arranged.
Guernsey's met office recorded a southerly wind of 18 knots, gusting to 28 knots at the time of Wednesday's high water.
A spokesperson said the damage would have been considerably worse if the direction had been westerly, but a significant swell had given the waves more power.
Harry McMillan, who lives nearby, said the waves had devoured a section of the road before forcing plumes of water through the hole.
"It's amazing the damage that's been done. The waves were 40 or 50 feet high," he said.
Insp Clare Cuthbert of Guernsey Police said she was grateful for the help of civil protection volunteers who prevented "sight-seers" from visiting the area to view the damage.
She said this had helped police officers return to normal duties.
Guernsey's Environment Department began a public consultation on coastal defences in August, which was due to end on 31 October.
This followed its commission of a report by consultant Royal Haskoning, which advised spending £50m over 20 years to avoid significant flood risks.