Guernsey officials warn of further sea wall collapses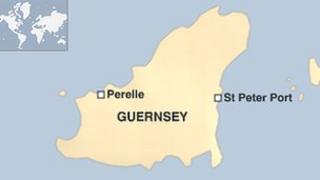 Parts of Guernsey's west coast sea wall are vulnerable to further collapsing, according to parish officials.
Fergus Dunlop, Senior Constable of St Saviour, said concerns had been raised with the States prior to Wednesday's collapse at Perelle.
A section of coast road and sea wall was washed away during a high tide.
The States' Environment Department said that while some parts of the wall needed repointing, previous inspections had not shown any structural weakness.
It said it had already carried out some repairs in the area in 2012.
'Obvious problems'
Mr Dunlop said he had written to the Environment Department on behalf of St Saviour's officials several times.
He added: "The problem with Perelle is that there are places where you can put your hand in to the wall and move it around behind the first stones.
"This is not just a repointing exercise, this is an old wall which has got obvious problems. I would say the probability of something else happening this winter is 50/50."
A statement from the Environment Department said it welcomed calls and letters from the public, all of which were acknowledged.
It said any repairs deemed necessary were scheduled according to priority.
The Environment Department said an investigation of the wall at Perelle and the surrounding area would take place.
The destruction of the road and sea wall at Perelle came during a 9.9m (32ft) tide.