Guernsey Border Agency staff win £1m Les Bourgs prize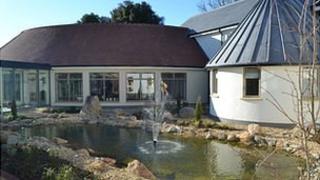 A syndicate of 23 people from the Guernsey Border Agency has won the £1m top prize in the Les Bourgs Hospice lottery.
Staff had purchased four of the £300 tickets in different syndicates, although it is not clear which one has won as the organiser is on holiday.
Jack Honeybill, from the Friends of Les Bourgs Hospice, said it could be a nervous wait for some of the staff.
He said the lottery had raised £340,000 for the publicly funded hospice.
Mr Honeybill said the funds raised by Saturday's draw meant the public had paid off the £4m redevelopment, which was completed earlier this year.
He said those in the winning syndicate were understood to have won between £33,000 and £66,000 each.
After slow initial sales, public syndicates were introduced, allowing people to buy a share of a ticket.
The draw was delayed by a week with all but about 200 of the 5,000 tickets being sold.
It was the third draw held by the Friends of Les Bourgs Hospice, with all three won by syndicates - the first a group of taxi drivers and the second staff at Beau Sejour Leisure Centre.
Mr Honeybill said it was likely to be the last lottery carried out by the hospice.
He said: "I'd never say never but we won't be running one in the foreseeable future.
"We still need to raise £700,000 a year to cover the running costs of Les Bourgs, but the time is right for us to look at new ways of raising that money to ensure the invaluable care that Les Bourgs gives can continue."
Mr Honeybill, who has run all three lotteries, said he had been asked by the Home Department to be involved in drafting new laws over charity lotteries.
He said they needed to make sure everything was in place to avoid a situation where a charity hoping to make money ended up in financial trouble.