Guernsey gang rape trio may be deported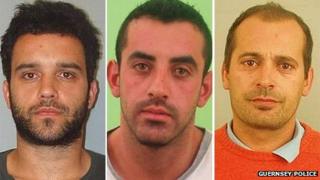 Three men jailed for raping a woman should be deported after serving their sentences, a Guernsey judge has said.
Bruno Loreto, 30, and Ruben Almeida, 28, were sentenced to 10 years and Jose Pinto, 40, was jailed for eight years at the island's Royal Court.
All three had denied raping the 22-year-old woman in St Peter Port, but Pinto admitted indecent assault.
Judge Russell Finch recommended the men, from Portugal, be deported as soon as their sentences were complete.
He said: "You treated the unfortunate lady like an inanimate object... having violated her and glorified it. We have no need of convicted gang rapists in this island."
The attack on the woman in August 2011 was described by police as "vicious".
The men showed no emotion as their sentences were read out.