Guernsey airport works to clear fog delay backlog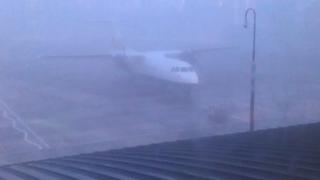 Guernsey Airport staff hope to finish clearing the backlog of flights caused by fog disruption since Monday.
Flights resumed on Tuesday evening after two days of cancellations and delays.
Airport Director Colin Le Ray said the weather had impacted on the airport itself, as well as on passengers trying to get in and away.
He said more than 40 flights had had to be cancelled on Monday alone, with more cancelled or delayed on Tuesday.
The airport remained open late on Tuesday to try to clear the backlog.