Tantale album 'defines band era'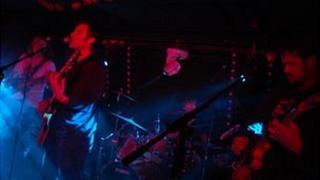 Tantale launched their debut album at the weekend with a packed gig at the Fermain Tavern.
They performed alongside other local acts Bright_Lights, RentOClean and DJ Psylobster.
The band have spent most of the past eight months creating their record, including a two week stint in the Oxfordshire-based studios owned by the management company who deal with Supergrass and Radiohead.
They came across the studio thanks to Guernsey-based musician and songwriter, Andy Robinson, who suggested the studio's engineer would be perfectly suited to record the band.
Tantale's frontman, Steve Wickins, said the experience had been hard work: "We pushed him and he pushed us… It was like taking our A-Levels."
Drummer, Graham Duerden, echoed this: "We had to work very hard to make sure the songs were perfect and we were almost playing from muscle memory."
Before heading off to Oxfordshire, Tantale made a point of playing as many gigs in as many Guernsey venues as possible to help them chose what songs to include on the record.
Graham explained: "We like playing live and we like getting the reaction from the crowd, so that's what determined what we were going to record."
Guitarist Louis Le Couteur added: "We had a lot of songs too, so we had to get it down to an album sized amount."
Matt Smart, the band's bass player, explained that narrowing down their material to the best of the best for the album meant having "to get a lot more focused than we usually are".
As well as being hard work, recording the album also led to a few surprises for the band, although with positive outcomes.
While the band were in the studio they were, briefly, visited by Radiohead frontman, Thom Yorke, who the band cited as a major inspiration and Louis said: "When they tell you this is the same room that High and Dry [by Radiohead] and Caught By The Fuzz [by Supergrass] were recorded it's quite inspiring to stand in that same space."
Graham added: "I don't want to be a hippy about it, but there is a 'vibe' there."
The band said they hoped the album would help define their current sound which has evolved over the past few years as they have, in Graham's words, "grown together as a band".
Steve said that recording the album felt like "clearing the past few years of riffs and songs and defining this period for the band", who now hope to take what they've done and continue their musical evolution.
Tantale's album The Known Elements is available as both a digital and physical edition from the band's Bandcamp page.