Charity jam makers need 'common sense' to avoid health risk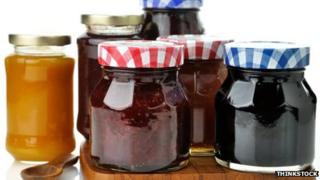 Common sense needs to be used when using old jars for jam making, Guernsey's director of environmental health has said.
It follows concerns raised in the UK that local authorities may enforce Food Standards Agency regulations from 2004, affecting jam sold at small events.
Val Cameron said laws ensured food safety to protect human health and to prevent food poisoning.
She said producers needed to make sure basic safety measures were taken.
Mrs Cameron said: "In Guernsey, we do adhere to EC [European Community] Food Regulations where appropriate, but these are always applied in a Guernsey context, using a sensible, proportionate and risk-based approach.
"The members of the Women's Institute, or other charity groups, generally make small amounts of food products for 'one-off' fund-raising events. They are, therefore, not food business operators.
"The type of jam and chutney mentioned... is of low risk because it is very high in sugar or acid, which prevents the growth of most micro-organisms that cause food poisoning.
"It is not the intention of the law in question, or this department, to prevent the use of jam jars in this context, providing simple food safety measures are adhered to."
She urged people with concerns about their produce to phone her office for advice.
Anyone making food for sale on five days in five consecutive weeks is seen as a food business operation and has to register with the Guernsey's Office of Environmental Health and Pollution Regulation.