Guernsey harbour crane berth rebuild completed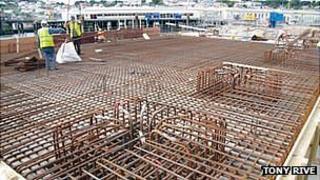 The rebuilding of one of St Peter Port Harbour's cargo berths has been completed as part of a £13.8m crane replacement project.
Two mobile cranes are being installed in the place of four of the five cranes in Guernsey's main harbour.
Steel reinforcement has been laid on the deck of the berth with concrete poured over the top.
Early next year two of the cranes are due to be dismantled to be replaced with the first of the mobile cranes.
The two-year project also involves repairs to the corrosion on the supporting beams and columns on the two other freight berths.
The harbour cranes handle more than 50,000 tonnes of freight a year.
Tony Pattimore, deputy harbour master, said maintaining essential harbour activities while large sections of the existing facilities were "effectively out of commission" presented a number of challenges, but there had been "no major problems" so far.