Guernsey cruise liner berth 'could increase income'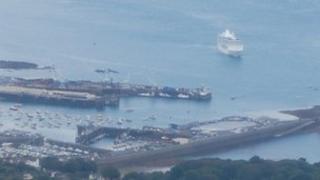 A cruise liner berth in Guernsey could increase income for the island and see more tourists visiting, a transport expert has said.
Prof Stuart Cole, from the University of Glamorgan, said the move could bring in about £9m for the local economy.
He has worked on a similar project for the Welsh government in Holyhead, in North Wales.
The States of Guernsey is looking at whether the island needs a dock for cruise ships.
Currently cruise liners must remain at sea when visiting Guernsey.
Prof Cole said: "They [cruise companies] don't want to be anchored in a harbour because they have to use their tender or hire boats to transport passengers and if the weather's bad they can't unload.
"If they tie up at a quayside they can carry out repairs, refuel and buy food and drinks which brings money to the local economy."
Big rewards predicted
He added building a new berth would be an "expensive proposition".
He said: "To build a new jetty [in North Wales] we've estimated it would cost £30-40m and I've seen a similar figure quoted for St Peter Port."
However, one 3,500 tonne ship a week, that would dock at a large quayside, could bring in about £9m to the local economy, he added.
Earlier, Peter Shanks, president and managing director of shipping line Cunard, said a berth would allow for more visits by ships.
In February 2012, the States of Guernsey decided to investigate the business case for constructing a cruise liner berth.
In recommending the research, the Public Services Department estimated the cost at £25-£80m, depending on the type and location of facility built.