Guernsey Cour du Parc tower block 'to be refurbished'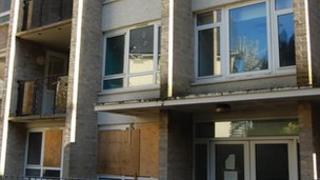 Guernsey's Cour du Parc tower block will be refurbished, said the island's housing minister.
Deputy Dave Jones said the flats in the block, which has been empty for almost two years, would be reconfigured.
He said the Housing Department had considered all options for the block thoroughly and had the support of the Treasury and Resources Department.
Cour du Parc was built in the 1960s and provided about 40 social housing flats before it was emptied in 2011.
Residents were moved out of the St Peter Port block at the beginning of the year after it was concluded the flats were neither safe nor habitable.
Deputy Jones said more details on what specific housing needs were to be met by the refurbishment would be given during the States' October meeting.