Guernsey businessmen attack housing licence system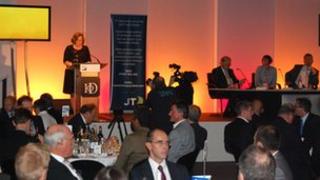 Guernsey's housing licence system has been attacked by a number of local business figures.
Several speakers at an Institute of Directors (IoD) debate called for an end to the system, which governs the length of time people can live in Guernsey.
Andreas Tautscher, chief executive of Deutsche Bank Guernsey, said the system was endangering the island's economy.
Housing Minister Deputy Dave Jones said he favoured employment permits.
He said: "The direction of travel will be more towards employment permits and not based on housing restrictions."
The States of Guernsey committed to a new population policy in January 2012, which has yet to be put in to action.
Current laws mean that any non-local people wishing to live and work in Guernsey must obtain a housing licence, or make use of higher priced Open Market housing.
Speaking at the IoD debate, Mr Tautscher said: "What I really think we need to focus on is talent.
"It's about attracting talent to Guernsey, and we're not talking about huge numbers of people, we're talking about key individuals."
He said recruiting highly-skilled professionals would help ensure the future of Guernsey's economy, and that free movement of people needed to be examined.