Cunard calls for Guernsey cruise liner berth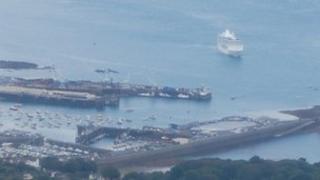 Guernsey's potential as a cruise destination could be enhanced by the installation of a cruise liner berth.
Peter Shanks, president and managing director of shipping line Cunard, said a berth would allow for more visits.
He said the Queen Mary II and Queen Elizabeth vessels were due to visit the Guernsey in summer 2012, but weather conditions had stopped autumn visits.
Mr Shanks said other ports around the world had realised the benefit of an "alongside" berth for cruise liners.
A number of cruises cancelled visits to Guernsey in summer 2012 because of bad weather.
Captain Peter Gill, the island's harbourmaster, estimated in June that cancellations had resulted in a loss of 7,000 potential visitors.
In February 2012, the States of Guernsey decided to investigate the business case for constructing a cruise liner berth, which would allow passengers to disembark despite choppy seas.
In recommending the research, the Public Services Department estimated the cost at £25-£80m, depending on the type and location of facility built.