Guernsey and Jersey announce new finance strategies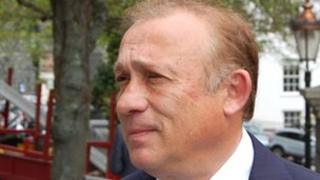 New finance strategies have been announced by the governments of Guernsey and Jersey.
Senator Alan Maclean, Jersey's Economic Development Minister, said almost £1m of taxpayers' money would fund research in to the island's finance sector.
He said consultants would be paid to carry out the work amid growing concerns about falling profits.
Kevin Stewart, Guernsey's Commerce and Employment Minister, said Guernsey would focus on ties with BRIC nations.
He said he was keen to develop links with countries such as Brazil, Russia, India and China, which would require more funding from the States of Guernsey.
He said he felt it was a good time for Guernsey to promote itself internationally, and his department would be undertaking a consultation on the issue.
'Ever changing'
Deputy Stewart said about £400,000 a year was currently being put into Guernsey Finance, the body responsible for promoting the island's finance industry.
The new strategy announced by the States of Jersey involved the appointment of a director of financial services.
Joe Moynihan was chosen for the job, which will see him develop the details of the new finance strategy while advising government ministers.
Mr Moynihan said: "We need to respond to the challenges presented by the ever changing external environment.
"I hope to play a part in ensuring that we secure the future of our financial services industry."
Deputy Stewart and Senator Maclean both acknowledged their islands' finance industries faced challenges.
Both said they needed to be helped due to their prominent positions with regards to the islands' economies.