Condor Ferries denies rumours of fast ferry withdrawal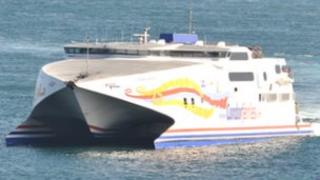 Rumours of the withdrawal of fast ferries to and from the Channel Islands have been dismissed by Condor Ferries.
Ken Soar, group director for the company, said Condor was committed to providing a network of year-round sailings into next year.
He added that an outline schedule, including fast ferry services to the islands, would be sent to the States of Guernsey in due course.
Talk of a withdrawal came following a call to the BBC from a Condor worker.
The worker said they believed the company would not be serving Guernsey and Jersey with fast ferries from 2013.
Mr Soar said both passenger and freight shipping services would be provided during the winter and in to summer 2013.
Condor Ferries operates fast and conventional sailings between the UK, the Channel Islands and France.
The services experienced a number of delays and cancellations in summer 2012 following due to poor weather and engine problems.
The company withdrew sailings from Weymouth earlier in 2012 after structural problems led to the closure of the quay.
Condor Ferries will resume sailings from Weymouth once a £4m repair project has been completed.