German WWII mural found in former Guernsey school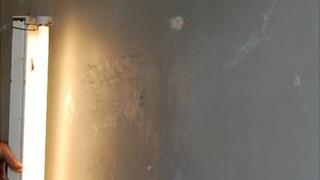 A German eagle mural is among items from World War II found during work to convert a former Guernsey school into housing.
Forty homes are being built on the site of the former Boys' Grammar School by the Guernsey Housing Association.
Paul Bourgaize, from historical group Festung Guernsey, found the mural behind a cupboard in what was an art room.
He said he hoped no further evidence was lost during the development work.
Mr Bourgaize said: "It was obviously used by German soldiers throughout the war so there may be other things that come to light. We can only focus on things we know of."
The group is planning to repaint the mural and take photographs of how it would have looked before the section of wall is demolished next year.
They have also found markings made by German engineers in the building of the hut on the site and by soldiers who lived in it.