HMS Charybdis survivor says Guernsey 'owed debt of gratitude'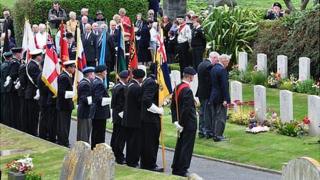 Guernsey is 'owed a debt of gratitude' for remembering the loss of 500 men in World War II, according to a survivor of the sinking of HMS Charybdis.
About 300 people turned out at Le Foulon cemetery to mark the torpedoing of HMS Charybdis and HMS Limbourne by German E-boats in 1943.
Roger Roberts, who was 18 years old and a stoker on the Charybdis, thanked islanders for remembering the dead.
He said he was worried people in England had forgotten their sacrifice.
The tragedy on 23 October 1943 during Operation Tunnel, which aimed to intercept a German convoy in the Bay of St Malo, was due to errors made ashore and afloat.
Funeral bans
The British task force was outmanoeuvred by a smaller, but better prepared, enemy force.
The bodies of those killed washed up in the German occupied Channel Islands and along the coast of France.
When the German authorities held a full military funeral in Guernsey for the 21 servicemen washed ashore 5,000 Guernsey people attended laying a total of 900 wreaths.
This public demonstration of support for the British Armed Forces led the German authorities to ban the public from attending the funerals of all those found in Jersey and along the French coast and the funerals of an additional 29 sailors and marines who later washed ashore in Guernsey.
Mr Roberts, one of six survivors to attend the memorial service, said: "For 25 years I've come to see the lads and made a lot of friends here and we come because of what the people did for our lads when they were here."
'Deep tragedy'
The service was attended by island dignitaries, representatives from local emergency services and veterans group and ship's company from HMS Daring, the Type 45 destroyer affiliated to the island.
The Royal Navy crew were originally unable to attend due to operational reasons, but a change of plan saw their stay extended until Monday and they were able to attend.
Music was provided by the Band of HM Royal Marines Collingwood and the Guernsey Salvation Army.
Marc Trickey, chaplain to the Association of Royal Navy and Royal Marines in Guernsey, opened the service.
He said: "It's a reminder there is nothing glorifying about war, that it is a deep tragedy, though I suppose sometimes it is a necessity.
"We remember all those who gave their lives and say thank you."