Guernsey museums chief backs Asterix ship Oatlands plan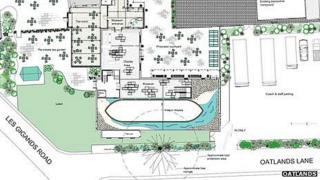 Plans to build a home for the remains of the Gallo-Roman ship Asterix at Oatlands have won the backing of the director of Guernsey Museums.
Developers have applied for permission to build a museum, storage space and an equestrian centre at Oatlands and Les Gigands Vineries.
Dr Jason Monaghan said the idea of using the site to house the Gallo-Roman ship Asterix was "quite exciting".
He said if the plans were approved they may form a public-private partnership.
'Ideas torpedoed'
Asterix, named after the French comic character, was a trading vessel discovered in the mouth of St Peter Port Harbour and raised between 1984 and 1986.
The timbers have been undergoing conservation work at the Mary Rose Trust in Portsmouth since 2006.
Dr Monaghan said: "We've been looking for a place for the ship for 26 years and every suggestion that has come up has been torpedoed.
"So this is probably the best idea that has come up for two decades."
Proposals to use the Oatlands site for museum storage were discussed in 2010, but stopped when the States approved a £1m upgrade to the museum's current storage facilities.
Dr Monaghan : "The next thing that needs to happen is we need a serious discussion with the developers about the business plan for it; who puts the money in, how much is it going to cost to build, how much is it going to cost to run and so on.
"It's to look at whether it's actually a viable idea from a financial point of view."
'Stuck in storage'
Dr Monaghan said there has been no discussions over plans to build a museum store on the Oatland's Vinery.
He said he would be open to discussions around having an open store where items are not on display but are available for people to see.
This would include the museum's larger items like a tram, a steam cleaner, plows, tractors and fire engines.
Dr Monaghan said: "A lot of these objects aren't of display quality, they're not good enough to put in a museum, but they're interesting enough to go have a look at.
"We do have a lot of objects in storage so if a private sector proposal came forward which employed some of our objects it's the sort of the thing we'd always look at.
"I'd rather they were in a private sector museum than stuck in storage where no one can see them, although obviously there are lots of ifs and buts along the way."