Guernsey sunflower maze closes after storm damage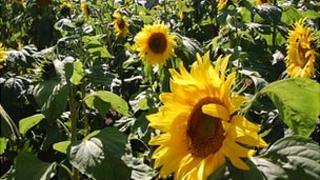 The sunflower maze in Guernsey's Saumarez Park has closed after being damaged by strong winds and heavy rain on Sunday.
The maze had only been open for five days, but had already been visited by more than 1,500 people.
The organisers of the Victorian Walled Kitchen Garden said fallen flowers have left gaps in the walls and most sunflowers have lost their petals.
As a result, they felt they could no longer charge visitors to the maze.
Margaret Boucher, volunteer gardener, said: "We were astonished at the impact the maze had and delighted with the number of people who visited both gardens - many for the first time."
The maze will be open to the public while the volunteers work in the garden on Saturday mornings from 09:00 to 12:00 BST.