Stamps celebrate Floral Guernsey's 20th anniversary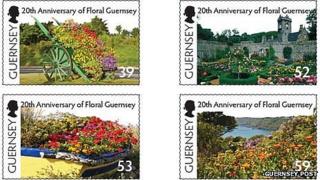 A set of stamps, featuring a specially bred daffodil, will mark the 20th anniversary of Floral Guernsey.
Horticulturist Rae Beckwith created the daffodil as part of the celebrations.
The group, which organises floral and environmental events, was the inspiration for the collection released on 27 September.
Tony Spruce, from Floral Guernsey, said: "Guernsey has such a rich variety of flora and the stamp pictures have really captured the essence of this."
The six stamps featured in this issue show photographs taken in the Bailiwick of Guernsey, and aim to reflect the rich variety of flora available in the islands.
The stamps include images of La Seigneurie in Sark, Guernsey's south coast and Candie Gardens.
Bridget Yabsley, of Guernsey Post, said: "We are delighted to have collaborated with Floral Guernsey to produce this special issue and we are particularly pleased to be able to feature the Floral Guernsey daffodil on the miniature sheet."