Sir Isaac Brock memorial coins to be minted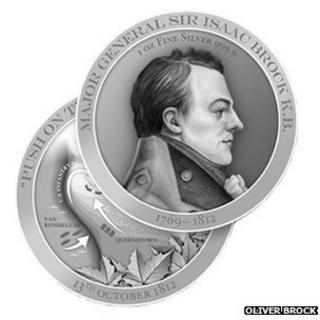 Ahead of the 200th anniversary of the death of Guernsey military hero Maj Gen Sir Isaac Brock, a coin is issued in his memory by the Guernsey Mint.
The commemorative coins, available in silver or gold, were designed by Oliver Brock, a seventh generation descendant of Gen Brock.
Mr Brock said one side would show a representation of Sir Isaac based on the only portrait done during his life.
Their sale will raise funds for the Brock Memorial Foundation.
Maj Gen Brock, who was born in Guernsey, was killed while leading a Canadian army against an American invasion at the Battle of Queenston Heights, in Ontario, on 13 October 1812.
It was his involvement in the capture of Detroit, in Michigan, in August of the same year that earned him his knighthood.
His descendant said the aim of the foundation was to "provide support for projects that celebrate the legacy of Sir Isaac Brock".
Graves desecrated
He said: "One of these is the restoration of First Nation gravestones in the Mohawk territory.
"The graves were desecrated and they've been all mixed up and the First Nation people have no funds to do it.
"Those kind of things that help to remember Brock, relative to what he was doing and what was happening at the time, and we're on the hunt for projects we can support as well."
Production of the coins is due to begin on Friday and Mr Brock said the reserve side was made up from a variety of elements relating to the Battle of Queenston Heights.
He said: "It starts at the base with a litter of maple leafs, it transfers from that into a map of the battlefield with some of the key manoeuvres on the day.
"Then up towards the top edge there's a scene as if Sir Isaac was charging up the hill, what he would have seen of the Americans in the redoubt at the time of his death.
"The main feature is a part profile of a musket ball rising out of the surface of the coin giving the impression of the musket ball coming directly at him at that moment and taking his life on that day."
Mr Brock said: "We went through literally hundreds of design options in terms of urns and typical commemorative kind of activities.
"Then we thought lets give him the energy, he died in battle, he died charging up the hill, that's what he's known for and the Canadians celebrate him for that as their national hero.
"So to have the coin full of energetic imagery was essential."