Channel Islands freight ship hits rock on maiden voyage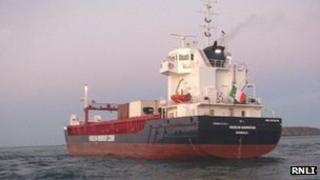 A cargo ship has run aground on its maiden voyage from Southampton to the Channel Islands.
The £8.8m Huelin-Renouf Dispatch hit a rock off the coast of Alderney at around 19:00 BST on Friday.
The captain of the new 90m (295ft) vessel issued a distress call after running aground on an isolated rock one and a half miles south-west of Alderney.
The lifeboat Roy Barker One was on the scene within 15 minutes.
Damage to the Dispatch was assessed and it was found that water was coming in at the stern of the stricken vessel, which had a crew of eight.
The leak was contained and the 2,500-ton ship was floated off the rock just before 20:00 BST before heading to Falmouth at half-speed, where it is now in dry dock.
The ship was on a round trip from Southampton to Jersey then to Guernsey, Alderney and back to Southampton.
Richard Evans, chief executive of Huelin-Renouf Shipping, said the crew and cargo were safe.
He said: "We have initiated the most appropriate contingency plan to ensure that we continue to deliver to our customers.
"There is a specific challenge with the Alderney cargo which we are managing, otherwise our service continues to run as normal."