Guernsey and UK police raids over £2.6m fraud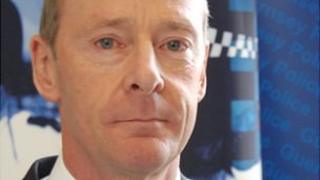 Two UK properties have been raided by police as part of the investigation into fraudsters taking £2.6m from the States of Guernsey.
Two search warrants were executed in Ipswich and London by Guernsey officers and City of London Police.
Documents and computers were seized, which led officers to search a third address, near to one of the properties.
Det Ch Insp Philip Breban said the items seized would be examined, which would take some time to complete.
The senior investigating officer said: "With the assistance of the City of London Police addresses were identified and individuals have been identified of interest in this moment and that resulted in these actions."
None of those people were found at the properties.
Det Ch Insp Breban said the aim of the operation was to "gather further evidence as to where this money has gone, because ultimately the aim is to recover as much as possible, and also identify those responsible and ultimately to speak to them".
He said with this type of crime the money was moved very quickly around the world and the local force was leading a global investigation with help from the Guernsey Border Agency and the City of London Police.