HMS Daring to open to visitors during Guernsey visit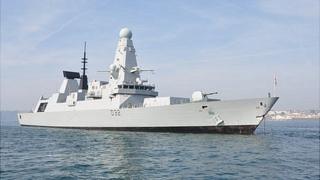 The Royal Navy ship affiliated to Guernsey, HMS Daring, will anchor off the island and open to the public.
The vessel, the first of the Type 45 destroyers to be launched, carried out its maiden deployment this year.
It is due to visit from 28-30 September and the crew is due to take part in events leading up to the Charybdis and Limbourne Memorial Service.
It is the third time islanders have been given the chance to go aboard and tickets will be allocated by lottery.
A total of 320 people will be able to go on board with two hour-long visits being held on the Saturday and Sunday.
Capt Guy Robinson, commanding officer of HMS Daring, said: "Although the primary reason for our visit is a rather sober one in memory of those who lost their lives on HM Ships Charybdis and Limbourne, it is also good that we will be able to open the ship up to the people of Guernsey."
More than 500 men died when HMS Charybdis and HMS Limbourne were sunk on 23 October 1943.
Their bodies washed ashore in German-occupied Guernsey, Jersey and France.
Captain Robinson said of the affiliation with the island: "HMS Daring is very new to the Royal Navy's Fleet, but the people of Guernsey have been quick to establish close links with their warship and always show us exceptional support.
"It is always a pleasure for the crew to welcome visitors on board and we look forward to being able to chat to locals about Daring's role and life in the modern Royal Navy protecting our nation's interests."
HMS Daring is the seventh Royal Navy ship to bear the name and was launched in Glasgow in February 2006 by the Countess of Wessex.