Channel Island police recruits train in Guernsey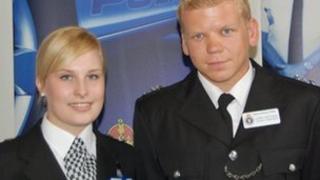 Guernsey Police are hosting the training of new Channel Island officers for the first time.
The students will be learning vital policing skills before they are sworn in as Police Constables in their respective islands.
Under a new arrangement Guernsey and Jersey are taking it in turns to run the initial course.
Guernsey Chief of Police Patrick Rice said it was part of a wider plan to share expertise with Jersey.
He said: "This is one of many things we are doing in partnership with our colleagues in Jersey.
"It is not just training for recruits but training for other specialisms.
"We have all got the same mission and that is the protection of life and property. It is the start of a partnership we are developing on and it is evolving."