Guernsey carers give mixed response to respite plans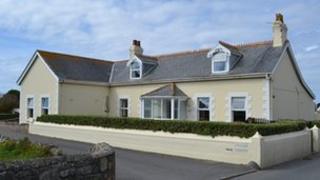 Carers of adults with physical and learning difficulties in Guernsey have given a mixed response to new plans for the provision of respite care.
Earlier this month it was announced that The Croft in St Sampson would stop admitting adults from January and only care for children.
Carers met with health staff on Tuesday night to hear about other care options.
They were told a plan to refurbish an alternative site as an adults only equivalent had been scrapped.
Instead individually tailored services will be offered.
The plans were praised as forward-thinking by some, while others condemned the move.
Mhairi MacGregor, who described her daughter as having "very severe and complex cerebral palsy and learning difficulties", said she remained anxious.
"It's great that they're looking at respite care in a broad way", she said. "But it doesn't do anything to plug the immediate worries about what's going to happen on 1 January."
"I need a duplicate of The Croft for adults," she said.
'Quite impressed'
Beryl Vaudin, who, along with her husband, cares for her 33-year-old son, was more enthused by the meeting.
"Once we got to know what it was all about and the menu that they were offering all of us, I was really quite impressed," she said.
Mrs Vaudin said the offer of respite care over full weekends to enable carers to take an off-island break was particularly welcome.
Other options discussed included an evening drop-in club, care in the home and taking the disabled person out for a meal, while the carer has a break.
Health and Social Services staff said the range of options finally provided would be shaped in consultation with service users and their carers.
However, Adrian Datta, the assistant director for specialist services, said: "We're not going to replicate The Croft with an adult version."
"We want to provide something that will meet the wide range of needs that many individuals have," he said.