Guernsey residents presented with British Empire Medals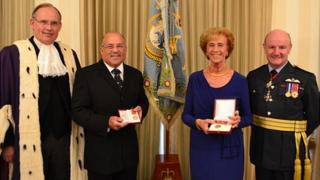 Two Guernsey residents have been presented with their British Empire Medals from the island's Lieutenant Governor Air Marshal Peter Walker.
John Bougourd and Janet Bran had both been named in the Queen's Birthday Honours list in June after the medal was reintroduced for the Jubilee year.
Mr Bougourd was honoured for his services to Sark and the Royal National Lifeboat Institution (RNLI).
Mrs Bran was awarded the medal for her voluntary service to music and charity.
Mr Bougourd, who served as coxswain of the St Peter Port lifeboat for 11 years, said: "It's a great honour, I'm very pleased and proud."
'Outstanding service'
He only stood down after reaching the service's retirement age of 55.
"It's a first class service, first class equipment and you work alongside really good guys," he said.
"I'd encourage anybody that's got an interest in the sea to look towards that way."
Mrs Bran directed the Guernsey Glee Singers for 11 years and made several broadcasts with the BBC Concert Orchestra, was the musical director of the Guernsey Amateur Dramatic and Operatic Club for 25 years and taught more than 5,000 pupils.
In 1982, she set up the Les Chansonelles Ladies Choir, which saw successes at the International Choir Festival gaining a first in class in 2002, winning the Choir of Choir award in 2006, as well as being awarded a silver medal at the 2011 event.
The choir also won a silver at the 2008 World Choir Games, held in Austria.
She said that looking back on more than 50 years of working in the community she found it "hard to believe" it had all happened.
AM Walker said: "The British Empire Medal is awarded for meritorious service worthy of recognition by the Crown.
"Both Janet Bran and John Bougourd are worthy recipients, having made a significant contribution to the communities of both Guernsey and Sark through their sustained and outstanding service."
Before this year the medal had not been awarded since 1993.
The last Bailiwick recipient was Werner Rang, a resident of Sark, who was recognised in 1991.