Hurricane pulls out of Guernsey Air Display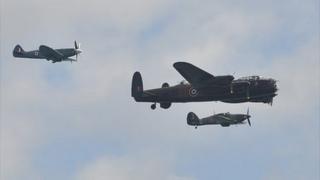 The World War II Hurricane due to feature in the Guernsey Air Display has had to pull out.
The Hurricane, one of two operated by the Battle of Britain Memorial Flight, has an oil leak meaning it will not be classed as airworthy.
The Spitfire and Lancaster from the flight are still due to take part in Thursday's display.
Among the other displays are the Red Arrows, the Black Cats, a Mustang and a flypast by a USAF B-52 Stratofortress.
The subsonic jet-powered bomber is due to fly from the United States, take part in both the Guernsey and Jersey displays before stopping to refuel in the UK ahead of returning to its home base.
The event, which is funded through sponsorship, raises money for the Royal Air Forces Association's Wings Appeal, which helps serving and former air force men and women.
Last year's display raised £21,000 despite poor weather forcing the cancellation of the majority of the display.
The display, previously known as the Battle of Britain Air Display, commemorates the British airmen and crew who fought against the Luftwaffe between June and October in 1940.
It has been held annually in the island since the 1960s.
Ahead of the display members of the public can get up close to some of the planes at Guernsey Airport between 14:00-17:00 BST on Wednesday.
Those confirmed are the P-51 Mustang, display team RV8tors, Royal Navy Black Cats Lynx helicopter and an RAF Hawk.