Les Beaucamps High School build to continue into term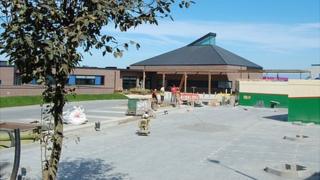 The project team behind the build of Guernsey's newest secondary school say they are working hard to ensure it is finished for the start of term.
Lessons at the newly refurbished Les Beaucamps High School are due to start on Monday.
Ashley Dupres, project operations director, said the majority of the school was finished, but some areas still needed to be completed.
He said the team were putting in extra hours to ensure it would all be ready.
Mr Dupres said: "We were all in last weekend and we're in again this weekend so that when the contractor leaves about mid-afternoon on Sunday we'll do a final sweep of the school to make sure it's absolutely ready for the students on Monday morning.
The finishing touches are due to be completed once term has started.
Head teacher Peter Le Cheminant said: "There will be building works that need to happen over the next six or seven weeks, that will be after the children have gone home.
"Over the next six months we'll be exploring how we use this building.
"It is really a very flexible space and we can use rooms and areas in lots of different ways and that's going to be an exciting journey."