Guernsey's marine ambulance opens to public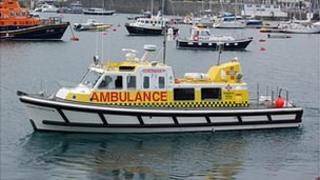 Guernsey's marine ambulance is being opened to the public as part of the celebrations of the 60th anniversary of the service.
The Flying Christine III, operated by Guernsey Ambulance and Rescue Service, will be moored by the slipway in Victoria Marina on Sunday.
The vessel, which was part of the Diamond Jubilee Thames Pageant, will be open from 11:00 BST to 14:45 BST.
So far this year the ambulance has been called out to deal with 48 emergencies.
The Flying Christine III - launched in 1994 - is the third vessel to carry the name since the service started in 1952.
The 45ft (13.7m) vessel was specially built to answer medical emergencies or accidents on board ships or neighbouring islands.
It is operated by paramedics and emergency medical technicians together with qualified local mariners.
Station manager Carrie Goodall said the public would have a chance to see the equipment on board, talk to the crew and see pictures from the pageant.