Guernsey cliff path overgrowth 'worst for 20 years'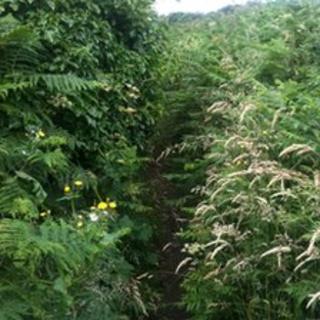 Guernsey's south coast cliff paths are more overgrown than they have been for 20 years, according to the island's Environment minister.
The department is responsible for the upkeep of 30m (48km) of footpath but Deputy Roger Domaille admitted it had become "a big problem this year".
He said "atrocious" weather in May and June had led to much thicker growth, which took much longer to cut back.
He said sections at Les Valle des Terres and Icart were particularly bad.
"Two of our very experienced staff have been doing this for 20 years and they tell us it's the worst they've ever seen," he said.
Deputy Domaille admitted there was a public perception that States Works were doing less work on the cliffs but he denied this.
"It is not because of budget cuts," he said. "That is not the case."
Sam Shires, a jogger who has used the paths for several years, said his running was affected.
He said of a run on Wednesday: "I got stung a couple of times by nettles and had to avoid the blackberries.
"I was quite surprised by how narrow it is at the moment. It's not in great shape."
States Works cuts the paths between May and November each year.