Guernsey firm Island Waste fears new law will ruin plan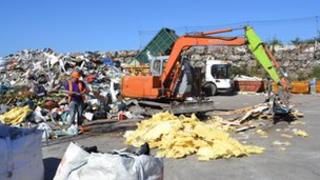 The owner of a Guernsey waste recycling firm says complying with environmental health laws may stop him bidding to be part of the States' waste strategy.
Dan Hubert of Island Waste accused the States of having a "silo mentality" after being told to erect a shed over his recycling yard in St Andrew.
He said the £1.5m cost would prevent him taking on a contract to sort waste.
The director of environmental health said the decision to insist on a shed was fair to nearby residents.
Val Cameron said regulations had been brought in, in 2010, "to protect human health and the environment".
"The conditions that have been applied are fair in relation to the actual nuisance being posed," she said.
Later this year, the States will go out to tender for companies to provide the waste recycling facilities at Longue Hougue in St Sampson, that will be necessary to enact the waste strategy adopted in February.
This calls for 70% of household waste to be recycled by 2025. Earlier this year, the figure stood at 46.4%.
Mr Hubert said it was well known that he wanted to win such a contract and move his firm to St Sampson.
He said he was "perplexed" therefore, at the timing of the insistence on a new facility at his existing site.